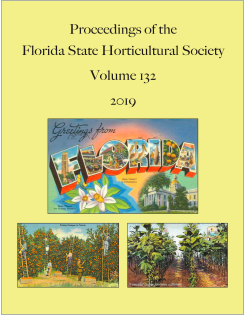 Publisher:

Florida State Horticultural Society

Editor:

Mary Lamberts

Edition:

132

Available in:

Paperback, PDF, web

ISBN:

0886-7283

Published:

July 1, 2019
Proceedings Archives
Note: We are working with FOJ to publish the ONLINE edition of this Proceedings issue as soon as possible. We are also looking at alternative means of making this content available. Members of FSHS are eligible to receive this issue as a download. Please contact [email protected] and request yours if you have not received it yet.
From the Presidential Address – Like all societies our strength is in our members. One of these strengths is the diversity of the FSHS community. This diversity takes many forms: scientific interests (production, postharvest, breeding); commodity interests (citrus, ornamentals, tropical and non-citrus fruit, vegetables, other crops, postharvest products, and natural resources); professional status of Society members (students, post-docs, early career professionals, and accomplished professionals); and the ecotypes in which our members work. – Gene McAvoy
Note: Proceedings archives are provided by Florida Online Journals.
---
Library of Congress Catalogue No. 9-1702. This Library of Congress number is ongoing, having been assigned to these Proceedings in 1909. ISSN 0886-7283